This year's best glass projects include SANAA's much discussed revamp of La Samaritaine, a dome made up out of 1,500 laminated glass shingles and a prefabricated glass and steel space unit.
Jansen AG / Florian Kleinefenn
1. La Samaritaine by SANAA / Kazuyo Sejima + Ryue Nishizawa
Fashion house LVMH tasked SANAA with the revitalization of formerly the largest department store in Paris, La Samaritaine. The building on the rue de Rivoli has been destroyed and SANAA placed a new structure with an interior street that runs the entire building alongside social and commercial program. The passageway connects one existing and two new glass covered courtyards.
Nic Lehoux
2. Academy Museum of Motion Pictures by Renzo Piano Building Workshop

The Academy Museum of Motion Pictures project combines the renovation of the 1939 May Company department store and addition of the spherical 1,000-seat David Geffen Theater. Located on the LACMA campus, right next to two other Renzo Piano buildings, the Broad Contemporary Art Museum and The Resnick Pavilion.
Marc Goodwin / Archmospheres
3. Lucia Smart by Pirinen Salo Oy
With a mirror-like glass exterior that blends powerfully into the landscape, Lucia Smart is a prefabricated glass and steel space unit that can be used as a workspace or living accommodation. Designed for Finnish glass construction company Savon Lasituote Oy, Lucia Smart is delivered directly to the site where it is placed on foundations built to manufacturer specifications and connected to the required infrastructure.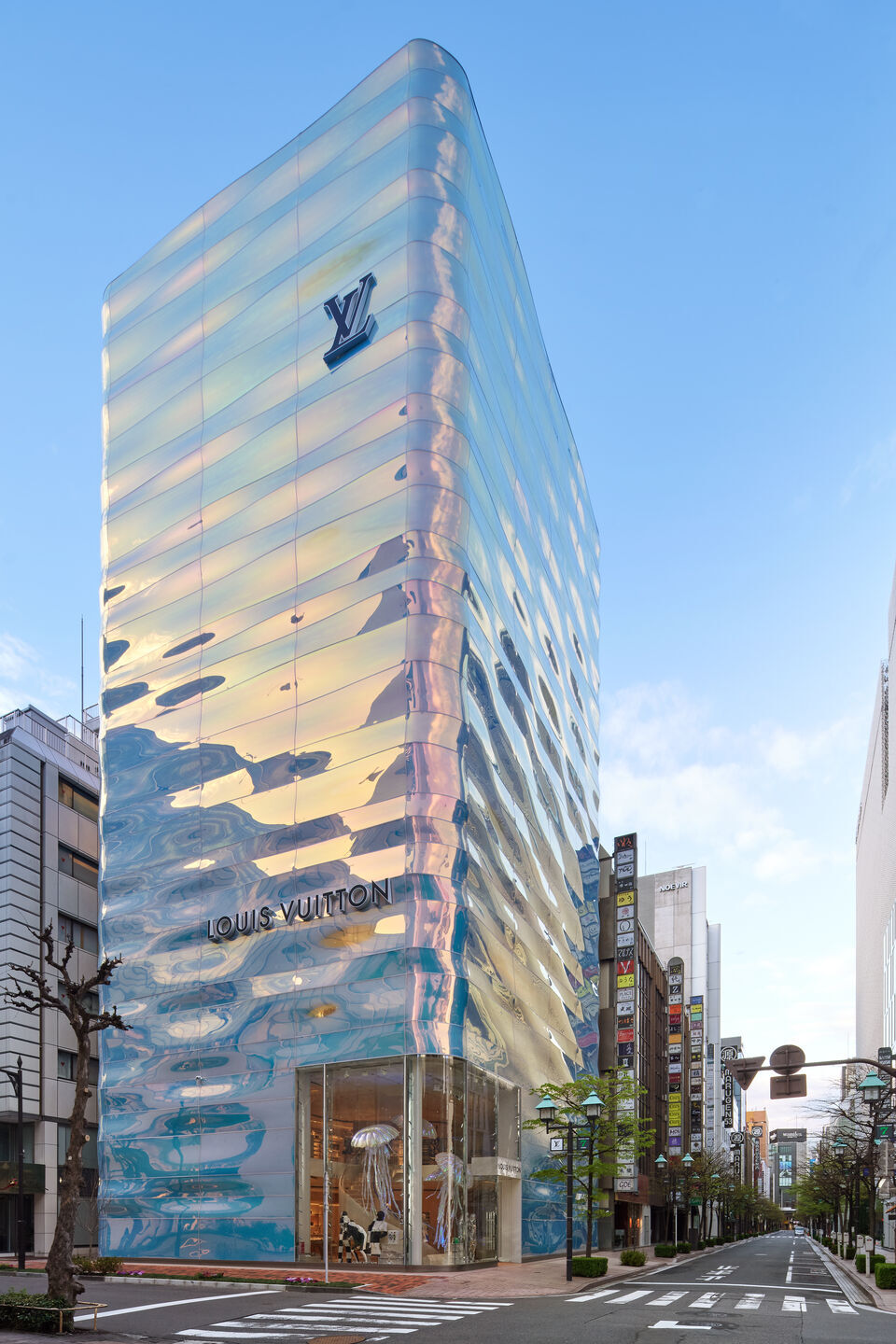 Daici Ano
4. Louis Vuitton Ginza Namiki by Aoki & Shinagawa + Associates
The transformation of Louis Vuitton Ginza Namiki is the third collaboration between Jun Aoki & Associates, now Aoki & Shinagawa + Associates, and Louis Vuitton after completing Louis Vuitton Maison Osaka Midosuji in 2020 and Louis Vuitton Ginza Matsuya in 2013.For the Ginza Namiki store, occupied by Louis Vuitton since 1981, Jun Aoki was inspired by the reflections of water and translated the phenomenon into a rippling glass facade. The undulating surface made up out of two layers of dichroic glass reflect shifting colors onto the staircase and interiors.
Spaceshift Studio
5. Artisans Ayutthaya: The Woman Restaurant by Bangkok Project Studio
Bordering the banks of the Chao Phraya River in Ban Run District, Ayutthaya, five glass block buildings sparkle under the light all day and night. The project by Bangkok Project Studio houses local single and widowed women aged 55-94, who cook delicious dishes for the monks of the village. They also cook local cuisine for visitors, the income for which is allocated to temple renovation.
Raitt Liu
6. Cosmetea Store by Nax Architects
Cosmetea innovatively integrates tea with trendy cosmetics, resulting in a modern fashion brand and aesthetic based on natural Eastern sentiments. Nax Architects were entrusted to conceive a store for the innovative brand in Shanghai. The pop-up-style store is located on Yuyuan Road, a hundred-year-old-road that has undergone many changes and represents the essence of Shanghai's history and culture. Within an area of 75 square meters, the retailing, socializing and experiential space was conceptualized by the architects as a 'tea house floating in the mountains'.
Javier Callejas Sevilla
7. Biotope by Henning Larsen
Designed after a conceptual vision of a ripple of glass, light and vegetation, The French Biotope Project by Henning Larsen promotes wellness through green space. The 30,000 m2 workspace in Lille features a sustainable structure that maximizes access to fresh air, daylight and green space. Plentiful rooftop gardens with natural light dissolve boundaries between buildings and nature while inside, a broad skylight floods a spectacular atrium.
Ossip van Duivenbode
8. Depot Boijmans Van Beuningen by MVRDV
The Museum Boijmans Van Beuningen in Rotterdam, which is currently undergoing renovations designed by Mecanoo, chose to transform their art depot into a visitable building. For MVRDV the key element is the interaction between the visitors and more than 151,000 works that are stored in the seven-storey building.
Filip Dujardin
9. Paddenbroek by Jo Taillieu Architecten
Close to Lombergveld/Kesterheid (Belgium), the Paddenbroek building is a transformation of an old farmhouse into a modern countryside education centre. Designed by Jo Taillieu architecten, the metamorphosis places a particular emphasis on the connection between nature, agriculture, tourism and regional identity.
Alessandra Chemollo
10. Lucio by Barbaritobancel Architectes
Office building Lucio has been completed by the Barbarito Bancel Agency in Lille. Elegant in proportion and form, the new building includes 1462 m2 of flexible office space and features a façade of evanescent glass scales that subtly play with degrees of transparency and reflections fragmented within the environment.