This paper focusses on the special glass part of the façade.
Source:
Challenging Glass 7
Conference on Architectural and Structural Applications of Glass
Belis, Bos & Louter (Eds.), Ghent University, September 2020.
Copyright © with the authors. All rights reserved.
ISBN 978-94-6366-296-3, https://doi.org/10.7480/cgc.7.4607
Authors:
Chris Noteboom - Arup
Peter Lenk
Iris Rombouts
Erik van der Thiel

A bespoke structural glass storefront is designed for the P.C. Hooftstraat 138. Developer Warenar Real Estate assembled a design team with UNStudio, Arup and Octatube. The façade features twisted geometries with precisely detailed glass connections and custom non-orthogonal steel and glass doors. At ground floor level the facade starts flush with adjacent buildings but rising up it also leans and cantilevers outwards to become more visible from a distance.
For optimal quality and minimalistic detailing, a scheme was designed in which most elements could be pre-assembled in the factory into three large 2m x8,5m high units. Connections between curved glass elements are all glued in combination with stainless steel elements for edge protection and emphasis on the curved geometry.
Risk of thermal breakage of annealed curved elements that are partially inside and partially outside is minimized by gluing stainless steel plates to the glass elements that act as cooling ribs. Frequent collaboration throughout the whole project between all parties resulted in successful delivery with no glass breakage during the construction phase. It took years to design, months to assemble in factory, but only 2 days to construct on site.
1.Introduction
1.1.Timeline and basic project information
In December 2019 the façade of the P.C. Hooftstraat 138 was officially revealed to public. The developer Warenar Real Estate assembled a diverse team of specialists to build another high quality and innovative façade after their widely published Crystal Houses Project (Oikonomopoulou et al.2016). UNStudio was asked as the architect to design a special jewel to improve the architectural quality of this side of the P.C. Hooftstraat; the most exclusive shopping street of Amsterdam. This jewel is now named as The Looking Glass.
The design of the façade resembles curves found in textiles and featured mainly curved glassfrom the start. The ground, first and second floor parts of the façade were split in three in line with the historic identity of the street and thus three vertical strips of façade can be distinguished. The trichotomy in the façade is not only architectural but was also used as guiding principle for structure and construction. Some of the nicknames for the façade refer to this multiplicity, such as 'three giant iPhones' or 'swiss watches'.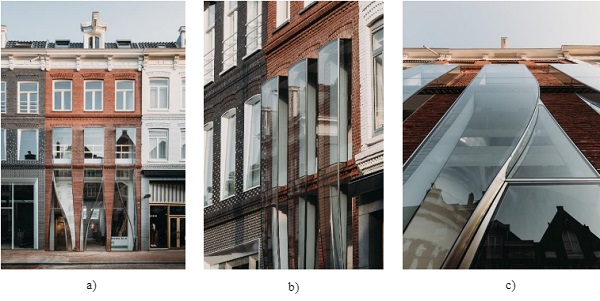 This paper focusses on the special glass part of the façade that covers both the ground floor as well as the first floor with a total height of 8.5 m and width of 6.5 m. It features various unique curved glass panels and structurally bonded stainless-steel elements. At ground level the facade starts flush with adjacent buildings but rising up it also leans and cantilevers outwards to become more visible from a distance.
Arup was asked in February 2017 to provide façade engineering services and so to collaborate with UN Studio to progress the technical design and to realize the dreams and ambitions. After various design and industry consultation meetings, details and calculations supporting tender documents were produced. Three international high-quality façade contractors were asked to bid for the PCSA and construction at the end of 2017.
Unfortunately, the curved and unique nature resulted in a significant cost increase for the developer and thus a value engineering phase was started in the beginning of 2018. Multiple design proposals were discussed and after choosing one, Octatube was incorporated into the design team to help optimize and eventually construct the design to agreed budget. A nearly invisible glass division was introduced at the first level and the geometry was modified in such a way that only single-curved glass elements were required.
At the end of 2018 a refined design was produced and preliminary discussed with the municipality of Amsterdam, before submitting documents in February 2019to obtain a building permit.Production of the glass at Cricursa in Spain started soon afterwards. Construction in the factory of Octatube started immediately. The pre-assembled units were installed on site in only two days in May 2019. Brickworks with acertified adhesive connection to insulation together with the final finishing of the façade works took place in August 2019.
1.2.Curved glass
Architecture is a constantly developing field with new trends emerging while old trends are fading, transforming and re-appearing again. In the past decades, designers fully embraced complex geometrical forms, predominantly due to the advances in parametric and computational design. All main players in the construction industry responded to this demand relatively swiftly, successfully constructing projects with undulated forms in structural steel, concrete or timber.
Nowadays, new trends in robotic and additive manufacturing technologies are pushing this boundary even further. In glass design, rectangular minimalistic architecture was very prominent in the past years, fully embracing advances in glass technology. Recently, the trend of complex geometries can also be seen in glass facades. Each realized project acts as a reference and catalyst for more change.
In theory, glass as "solidified fluid" should be an excellent material to explore and support current trends in contemporary architecture, fueled by parametric modelling. Cost of glass components is driven by the number of processes a glass product needs to undergo and limited by the current capabilities of manufacturing machinery. Possibilities to explore forms are reliant on individual skills and experience, perhaps a distant remainder of the former glory of Venetian and Bohemian artisan glass masters of the past.
During the design process of The Looking Glass, all possible ideas to get to the required shape were investigated, such as conventional methods of slumped annealed and chemically toughened. Or simplifying geometry to fit within a cylindrical shape which will be then possible to bend during tempering. We were also experimenting with an idea of cold bending techniques during the lamination with potentially additional cold bending in situ.
Similar concepts were used in the Bombay Sapphire greenhouse, UK (Lenk et al.2018) or the Van Gogh museum in Amsterdam (Bijster et al.2015). Due to the complexity of the geometry, desired visual quality, tight tolerances and the proposed detailing, slumped annealed glass was recommended. Visible clamp plates on the outside were architecturally undesirable which in turn meant in situ cold bending was not an option. Cold bending during lamination was considered as too specialized with commercial disadvantages.