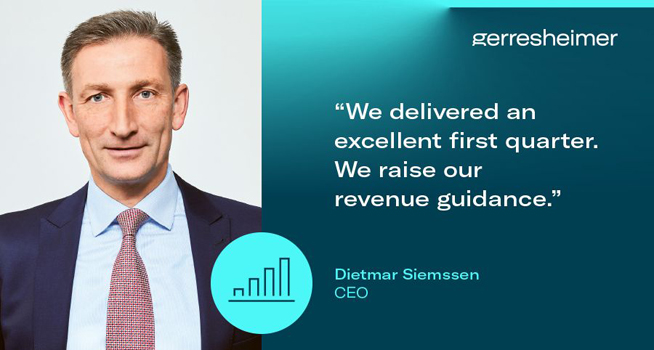 In the first quarter of fiscal year 2022, Gerresheimer group generated revenues of EUR 371 million with an organic growth rate of 19.1 percent. Focus on investing in key growth drivers, such as High Value Solutions in pharma and beauty, Regional Expansion and Contract Manufacturing, paid off and all divisions achieved double-digit growth as a result. Revenue growth was also supported by the current dynamic pricing environment. Adjusted EBITDA rose to EUR 62 million. Without considering FX effects organic growth was 10.6 percent. Adjusted earnings per share rose organically to EUR 0.64 with an organic growth rate of 8.5 percent.
Gerresheimer continues to successfully navigate through the current inflationary business environment by making use of its pricing power and benefiting from its long-term hedging strategy against volatile energy prices. At the same time, Gerresheimer continues to improve the energy mix in its facilities in line with its sustainability strategy.
In the Primary Packaging Glass Division sales were up by 21.8 percent organically pushed by strong demand for High Value Solutions and high-quality ready-to-fill vials. The adjusted EBITDA grew organically by 11.1 percent.
The Plastics & Devices Division revenues grew organically by 16.9 percent, based on a strong performance in all business units. The adjusted EBITDA increased organically by 15.3 percent.
The Advanced Technologies Division performed as expected with a slight increase in revenues and adjusted EBITDA on prior year's levels. For this financial year, Gerresheimer expects support through the development of the new pump for a large US biotech company focussing on rare diseases, a contract announced in December 2021.
Based on the successful development in the first quarter and the strong order book, Gerresheimer has raised its guidance for organic revenue growth in 2022.
Guidance for FY 2022 (For group level, FXN):
Organic revenue growth: double-digit (previously high single-digit)

Organic adjusted EBITDA growth: high single-digit

Adjusted EPS growth: high single-digit
Mid-term Guidance (For group level, FXN)
Organic revenue growth: high single-digit

Organic adjusted EBITDA margin: of 23-25 percent

Adjusted EPS growth: >10 percent p.a.