The brand new vivo X Fold comes fully packed with specialty glass made by SCHOTT. The phone's foldable main display features glass from the SCHOTT UTG® line-up that can bend hundreds of thousands of times after processing. The secondary display is protected by Xensation® α, a high-performance cover glass with outstanding drop performance.
SCHOTT products enable the latest flagship phone from vivo, the vivo X Fold. The new device was presented in China recently and advances the partnership between SCHOTT, the inventor of specialty glass and international technology group, and vivo, a leading global smartphone maker.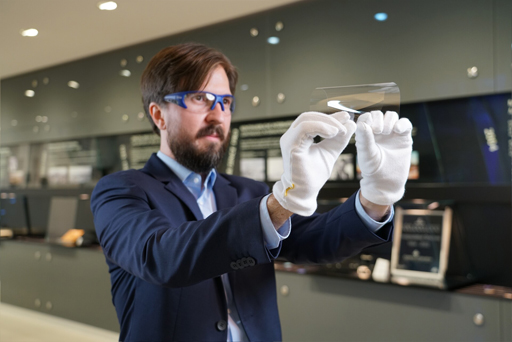 On the exterior of vivo's new smartphone, Xensation® α (Alpha) provides significantly improved drop resistance compared to lithium aluminosilicate (LAS) and aluminosilicate (AS) cover glass types. Launched in October 2021, Xensation® α is SCHOTT's latest high-end addition to its Xensation® cover glass portfolio. Xensation® α is a newly composed lithium alumino-borosilicate (LABS) glass that is made to survive: in addition to its outstanding drop performance, it is also less sensitive to scratches than conventional LAS glasses.
The phone also features a foldable display equipped with a SCHOTT UTG® glass. It is produced in a down draw melting process to achieve a bending radius of less than 2 milimetres after processing.