The American Ceramic Society hosted the National Day of Glass Conference last week, April 5–7, 2022, in Washington, D.C., to kick off North American-based celebrations of the United Nations International Year of Glass.
The opening ceremony for this international year was held in February at the United Nations Palace of Nations in Geneva, Switzerland.
The idea for the National Day of Glass Conference (NDGC) germinated almost immediately after the U.N. announced last May that 2022 would be designated the International Year of Glass. The U.N. has declared International Years since 1959 to highlight industries, concepts, or ideals that promote its objectives. This year marks the first time the U.N. recognized a material with the International Year designation. Manoj Choudhary, chair of the IYOG North American Steering Committee, noted that glass has an indispensable role in addressing 11 of the U.N.'s 17 sustainability goals.
Alfred University dean emeritus David Pye first suggested the idea to have a national day of glass as part of the celebrations. Kathleen Richardson and Mario Affatigato picked up the mantle and organized the two-day event. Richardson is Pegasus Professor of Optics and Materials Science and Engineering at CREOL/College of Optics and Photonics at the University of Central Florida. Affatigato is Fran Allison and Francis Halpin Professor of Physics at Coe College.
"It was an incredible few days of celebrating all things glass. By welcoming a range of leaders from all sectors of our glass community, we were able to share diverse perspectives on the rich history and promising future that glass has in our world," says Richardson.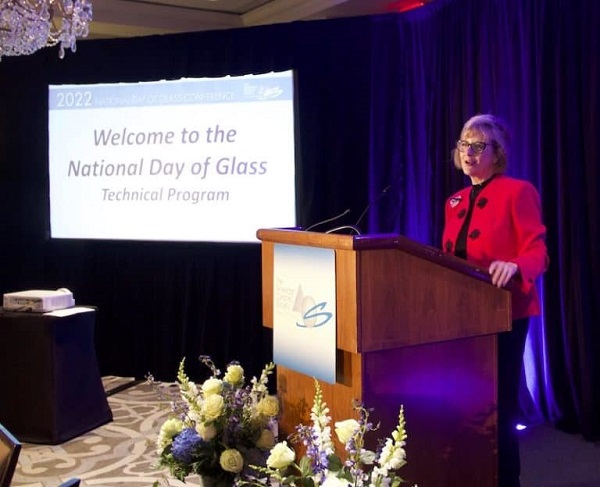 The program was designed to showcase the impact of glass—past, present, and future—and was envisioned as a celebration of glass science, technology, engineering, education, and art.
Think, for example, about windows. Several speakers noted that the invention of flat glass revolutionized housing starting around the 17th century, perhaps even earlier. With access to transparent flat glass, fenestration in homes let in light and kept out weather, insects, and smells. Modern windows still serve that purpose, but they may also play a role in 5G networks by serving as antennas and signal boosters, according to Naoki Sugimoto, executive officer and general manager of AGC's Materials Integration Laboratories.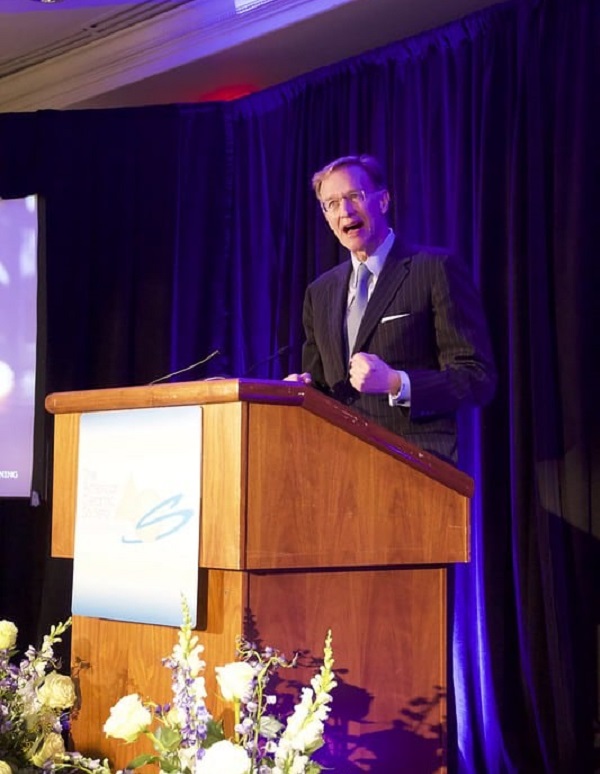 Corning International CEO Wendell Weeks set the tone for the conference by focusing on four key attributes of glass: stability, strength, interaction with light, and impermeability. Weeks artfully wove human history and scientific advances to show the impact of glass on the arc of human progress. One striking example was the development of transparent, colorless glasses with improved stability, which led to the development of eyeglasses and more reading after the printing press was invented. Glass enabled the growth of an educated population and the spread of ideas.
In another example, the British were at war in the early 17th century and conscripted all wood for shipbuilding. Glassmakers turned to coal as a fuel source and found that the hotter furnace temperatures allowed them to make bottles with higher silica content. These stronger bottles turned out to be perfect containers for the new bubbly wines French winemakers in the Champagne region developed. "Talk about glass being essential to human progress!" says Weeks.
Other examples familiar to this audience included Gorilla Glass, optical fibers, and pharmaceutical packaging—all of which point to the impact of glass on the everyday as well as the extraordinary moments of life.
Thought leaders from government—NSF, DOE, DARPA—talked about the innovation enterprise, which integrates government investment, open science policies, and workforce development. Kelvin Droegemeier, Regents' Professor of Meteorology and Teigen Presidential Professor at Oklahoma University, with nearly two decades of experience working in government (former director of the White House Office of Science and Technology Policy and former director of the National Science Foundation), introduced the notion of finding the "missing millions" of talent hidden in areas of the United States often outside the mainstream flow of opportunity, but whom it would behoove the nation to engage with resources and opportunity.
Top executives from Owens-Illinois, Schott Glass, AGC, Nippon Electric Glass Fiber America, and entrepreneurs raised the importance of sustainability in their supply chains and manufacturing processes. It was frequently noted that glass is infinitely recyclable but often poorly recycled, especially in the U.S.
Three panel discussions were at least as stimulating as the talks. The panels comprised leaders from academia, industry, government, and art with widely diverse perspectives, which led to vigorous conversation on the panel and also with the audience.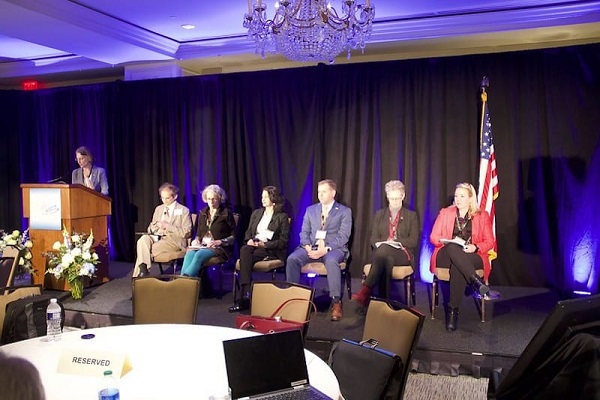 The glass art community bridges the aesthetic and scientific attributes of glass, and glass art provides a beautiful point of entry to glass appreciation to a wide audience. Artists, scientists, business leaders, and funding agency leaders connected over their mutual interest in glass, often finding that their interests overlap; it is the exploration of those interests that diverges.
Richardson says, "The richness of our global glass community was on display, including a further expansion of our relationship with the glass art community. Together we shared thoughts, concerns, and opportunities where we can make key inroads as a sector, toward some of our globe's most challenging sustainability issues."
A gala banquet on Wednesday night featured a recorded presented by Dale and Leslie Chihuly and a live presentation by Narcissus Quagliata. Quagliata describes himself as a painter and an artist interested in light. He eventually discovered glass as a fascinating medium for exploring the interaction of light in art. Working with Bullseye Glass, he developed a technique for "painting" with glass. His glass paintings are fascinating visual essays, and Quagliata has won several commissions to install his work in prominent locations throughout the world. Hearing his story and seeing his work left no doubt that he is a master glassman with a keen understanding of glass composition and properties.
NDGC is sure to have a "long tail" effect, with conversations and interactions that will continue for years to come. It provided a template for bringing together science, business, education, and art communities and creating an environment for exchanging ideas.
As Weeks observed, "Glass remains and will be even more so, vital to human progress."
Pictures from the event are located on ACerS Flickr page. All talks were recorded and will be available on the ACerS website by the end of April. Much more occurred than these few words can convey, and readers are encouraged to watch the videos.
Learn more about the events planned for the International Year of Glass in both North America and globally.