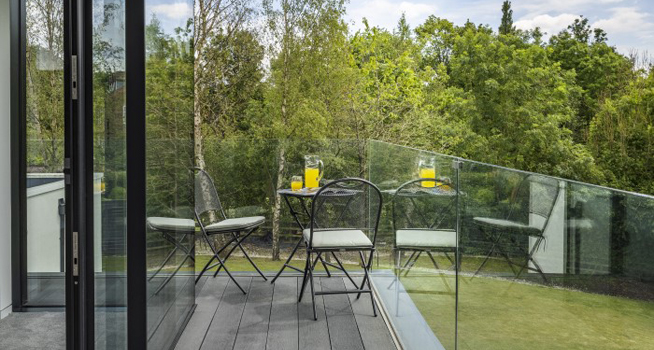 Phil Brown, European regulatory marketing manager at Pilkington United Kingdom Limited, part of the NSG Group, outlines the changes to Part L of the building regulations for dwellings in England, and how meeting U-value requirements will help installers to be one step ahead in meeting future standards.
Recent changes to Part L of the building regulations in England come into effect from June 2022, and will be a significant step towards achieving the Government's Future Homes Standard, which aims to ensure that all new homes built from 2025 will produce 75-80 percent less carbon than those delivered under current regulations.
The implementation of the changes outlined in the supporting Approved Documents is expected to lead to up to a 31 percent reduction in carbon emissions in dwellings compared to the current standard. To achieve this will require embracing carbon-saving technologies, such as low-carbon heating systems, as well as improvements in building fabric standards.
Part L of the regulations is concerned with the energy performance of building elements such as windows and doors, and the changes will further tighten the rules governing the carbon emissions of dwellings, both new and existing.
Fabric first energy efficiency
Over 25 percent of the heat from homes and public buildings escapes through the windows, so, with the rising costs of energy and environmental awareness, more emphasis (and regulation) is being placed on the thermal insulation of fabric components.
When it comes to replacing windows and doors, the changes to Part L require installers to choose high performance glass products that meet the target fabric energy efficiency rates. This means, where possible, selecting products that limit 'back stop' values, or U-values – the rate at which heat transfers through a structure or material, divided by the difference in temperature across that structure of building.
Lower (better) U-values will contribute towards the overall target performance of the building and help meet the new requirements. For windows in new dwellings, the previous maximum U-value of 2.0 W/(m2·K), has been tightened to 1.6 W/(m2·K). However, the expectation is that the U-value will still have to be much lower than this to enable new dwellings to achieve the target primary energy, carbon emissions and fabric energy efficiency rates, with a window U value of 1.2 W/(m2·K) referenced in the notional dwelling specification. For replacement windows in existing dwellings, the maximum U value is now 1.4 W/(m2·K), down from 1.6 W/(m2·K).
Amplified by increased specifier enquiries about the U-values of glass and glazing products, as well as the options for high performance double glazing and even triple glazing, any new glass products will need to demonstrably limit heat loss, whether for old or new dwellings.
Insulating Glass Units (IGUs) with higher thermal insulation specifications may be necessary for projects to help prevent heat loss through windows and meet the tighter regulations. These can be installed into many types of existing window frames, and specialist coatings can modify products to better their energy performance during manufacture on-line or subsequently off-line.
Window Energy Ratings (WER) are often used as a means of demonstrating compliance with Part L for replacement windows in existing dwellings and considers the total energy performance of a window. The rating doesn't only look at heat loss, but also at the amount of the sun's energy passing through the glazing. As an alternative to the U value compliance route, replacement windows achieving minimum WER band B can satisfy the new requirements.
Thinking one step ahead
2025 will come around quickly, and for new dwellings to meet the targets laid out in the Future Homes Standard in terms of primary energy, carbon dioxide emissions and fabric energy efficiency rates, its fabric elements will need to have U-values even lower than what is set out in the latest version of Part L. It is widely anticipated that the 'de facto' standard for window U-values in new homes will be 0.8 W/ m2·K in 2025.
It is important for installers to be prepared for the tightening of these regulations in the run up to the introduction of the Future Homes Standard in 2025. While triple glazing may become mandatory by then, there are a whole host of other glass and glazing solutions to ensure energy saving and carbon emission avoidance to meet the latest changes.
Solar control glazing allows daylight to pass through a window or façade while reflecting away a large degree of the sun's heat. For example, Pilkington Suncool™ is specifically designed to ensure buildings don't overheat during the warmer months and also helps to reduce the need for both cooling and heating systems.
Where there isn't a need for cooling systems, incorporating a low-e glass such as a glass from the Pilkington K Glass™ range or Pilkington Optitherm™ S1 Plus helps to prevent heat from escaping through windows, reflecting it back into the building, allowing architects to use more glass.
The changes to Part L are just the beginning, so understanding the energy efficiency of your chosen glass, pre-empting further tightening of the regulation, will play a significant role in meeting the targets in the coming years.
For more information on the regulations, Pilkington UK has developed a dedicated Part L online hub, with the latest information on regulation changes and advice for installers on choosing compliant glass.