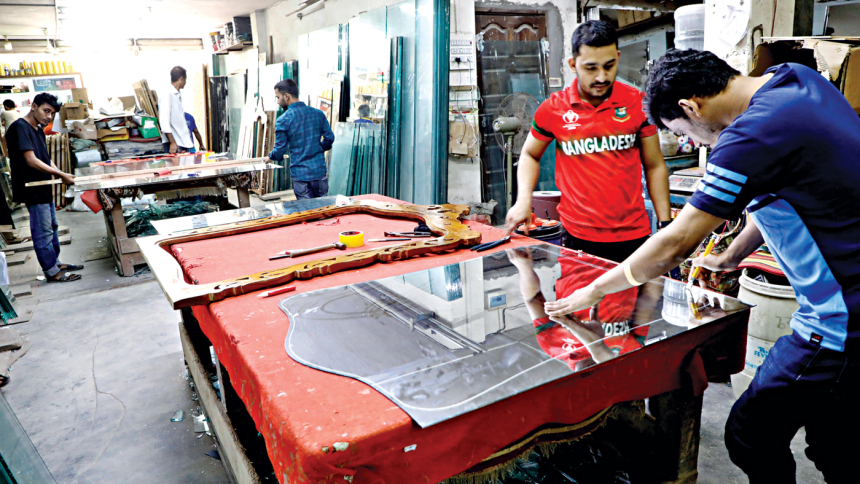 Workers at a glass factory are seen cutting sheets of reflective glass into shape for use in various commercial and residential structures. The demand for such products has increased exponentially over the past 15 years with local manufacturers now capable of catering to about 98 per cent of the domestic requirement. Photo: Prabir Das
The market for glass used in construction has increased steadily in Bangladesh over the past 15 years thanks to expansion in the real-estate sector resulting from rapid urbanisation, according to industry insiders.
The country annually consumes around 270,000 tonnes of glass, including float, reflective and soundproof glass, leading to a market size of no less than Tk 2,000 crore at present compared to Tk 300 crore when the industry started out.
As such, the market size has increased around seven times in the last 15 years, they said.
Local manufacturers are capable of catering to 98 per cent of the country's total requirement for glass while the remaining 2 per cent consists of high-end imported products.
Major players in the domestic industry include Nasir Glass Industry Limited and PHP Float Glass Industries Limited, which control around 95 per cent of the market collectively. However, AB Glass and the state-owned Usmania Glass Sheet Factory Limited each hold very nominal shares.
Sultan Mahmud, assistant general manager of PHP Float Glass Industries, said local manufacturers cater to almost 98 per cent of the demand for float and other glass products in Bangladesh.
In 2004, PHP established PHP Float Glass Industries in Chattogram with an annual production capacity of 40,000 tonnes before expanding it to 75,000 tonnes.
At the unit, PHP manufactures 250 tonnes of float glass per month in 10 colours.
PHP Float Glass Industries, a concern of the PHP Family, was the first local manufacturer to produce reflective glass with plans to export it on meeting domestic demand in May 2021.
Besides, they will launch commercial production of soundproof glass in the first week of October as their trial production has been completed.
Mahmud says the unit has the capacity to produce 500 tonnes of the glass each month.
"Basically, all glass was imported from China, Indonesia and Malaysia before 2005," he said.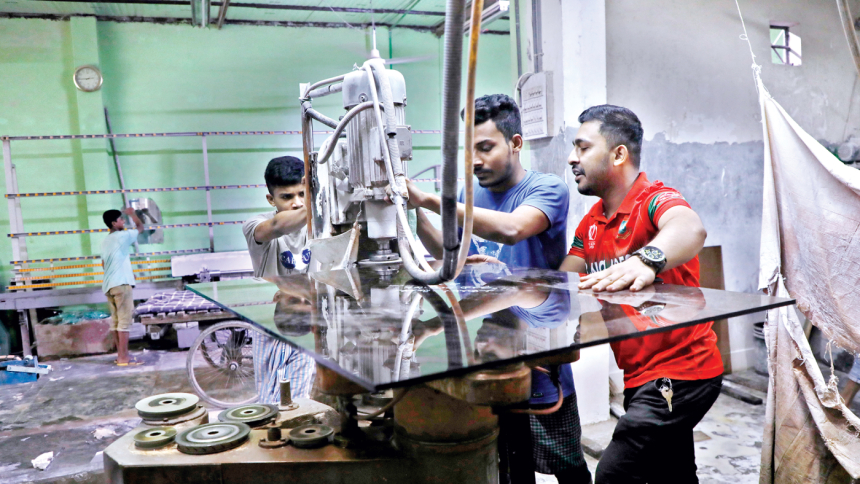 "Now, the quantity of glass imports is very less as local manufacturers produce international standard products," Mahmud added.
Earlier, Mohammed Amir Hossain, managing director of PHP Float Glass Industries, said they were the first to produce float glass in Bangladesh in 2005, helping to cut down imports.
Nasir Glass Industries Limited is the market leader in terms of production and supply with a market share of around 60 per cent.
The two units of Nasir Glass collectively produce about 22,000 tonnes of glass, around 75 per cent of which is for the local market while the rest is exported.
Mohammad Fakharuzzaman, deputy general manager (exports) at Nasir Group of Industries, said their total production capacity is around 30,000 tonnes per month.
"We provide around 16,000 tonnes per month to the domestic market and demand is increasing by around 10 per cent annually," he added.
Nasir Glass exports its products to India, Nepal, Sri Lanka, the UAE and some countries in Africa.
According to the deputy general manager, the market for glass is growing in line with increasing expansion of real-estate sector and rapid urbanisation.
Golam Mostafa, owner of Chowdhury Glass, a dealer in the Mirpur area of Dhaka, said he sells at least 120 tonnes of float glass each month with furniture manufacturers, realtors and home owners being major clients.
Mostafa went on to say that he sold imported glass when he started the business some 22 years ago but now, he retails mostly locally made glass products.
FR Khan, managing director of bti (Building Technology & Ideas Ltd), said they use glory wired glass in their buildings.
Glory wired glass is a kind of reinforced concrete structured safety and decorative glass that protects against outside temperatures.
"We import this glass to ensure quality of the property," he added.
He then said that local manufactures produce lesser standard glass products.
Mohammad Hossain Alamgir, president of the Bangladesh Glass Merchants Association, said they import at least 1.5 lakh tonnes of high-quality glass each year as local manufacturers are yet to produce this grade of product.
He also claimed that Bangladesh still meets 40 per cent of its demand for glass through imports.