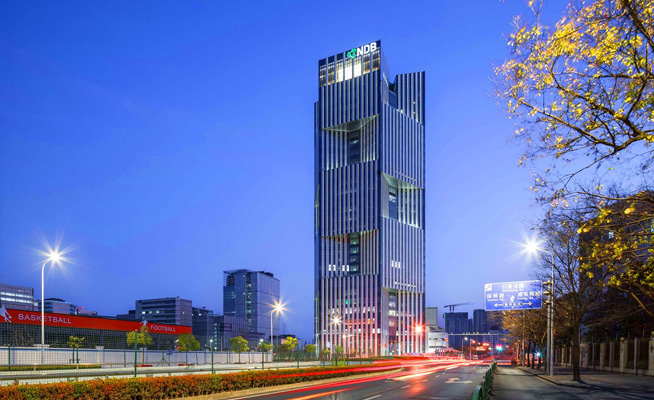 The BRICS New Development Bank headquarters building is the first international financial organization headquarters in Shanghai, but also another international organization project constructed by Shanghai NorthGlass after the project of the main venue of the Qingdao summit. The project is located in the EXPO site A area, and faces toward the Lujiazui financial centre and the "Oriental crown" EXPO China pavilion, which makes it an impressive addition to the city skyline along the Huangpu River.
The architectural design concept of the New Development Bank symbolizes stability and balance, and the power of rotation represents innovation and development. The building plane keeps rotating and rising, forming a stable and changing five-segment shape, which signifies the integrated development of the five BRICS countries (Brazil, Russia, India, China and South Africa).
The New Development Bank consists of a 150-metre high main building and attached podium building. The super glass of the whole project is made by Shanghai NorthGlass, including 9.6 by 1.7 metre super glass in the lobby of the main building, 9.2 by 1.7 metre super glass in the banquet hall of the podium building and glass ribs of the same size. This is also a technically challenging part of the curtain wall glass of the New Development Bank headquarters.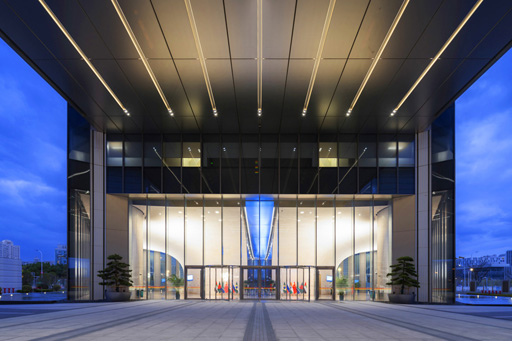 NorthGlass has provided double SGP insulating Low-E laminated glass for the project, and 5 layers of ultra-white SGP laminated glass for attached glass ribs using an embedded metal parts process, and each piece of glass embedded metal parts required error margins of less than 1 millimetre, which means the glass processing precision requirements is very strict. At the same time such a large size of glass processing is a huge challenge, but Shanghai NorthGlass technical team overcame technical difficulties, innovating in terms of equipment and special process, and finished product installation after the flatness and stress spots reached the superior rating, which received high praise from the owner.
The super glass façade of the New Development Bank can be described as an intuitive reflection of the quality. The super glass façade increases the overall permeability, greatly improves the lighting ability and appears more shiny under the reflection of sunlight. NorthGlass worked with the design team and the curtain wall team to create a safe, efficient, healthy and humanized office space.
The New Development Bank project has successfully passed the three-star China Green Building, American LEED Platinum grade and three-star China Health Building certifications. The project provides a very good model for discussing the application of super curtain wall glass by bank headquarters in urban high-density areas.