Tiama has released a unique camera-based check inspection solution called Saturn to replace traditional manual detection on carousel machines.
Checks detection has always been a complex and time-consuming inspection to run on glass containers. Traditionally, LED modulated lights sources and digital sensors have been used to detect them. Upon job changes, it requires setting lights and sensors angles accurately towards the area to be inspected. An oscilloscope display would confirm the right angle set up of each light and sensor combination. Even with highly experienced personnel, that guess work is impacting production downtime significantly without providing the most accurate results.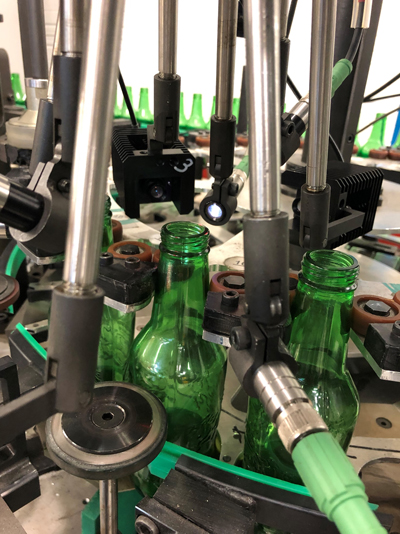 With 60 years of experience in non-contact vision technology, Tiama has developed the Saturn to revamp manual checks detection. With 6 to 11 wide-angle cameras (30 by 15 millimetre inspection areas) plugged on swivel arms, Saturn allows detection checks on all container parts including finish, shoulder and base as well as the body. Once cameras are oriented towards the article, detection thresholds and minimal check surfaces are the only 2 parameters that must be set up. As a result, job changes can be reduced significantly compared to standard manual technology. In addition, Tiama has implemented the Saturn into its latest user-friendly interface, making it even easier to set up.
At a pace of 350 BPM, Saturn can analyse up to 792 high-resolution images to catch the tiniest checks on bottles and jars. Production quality is kept at the highest level while false reject level is significantly reduced. Resorting often caused by checks defects can also be reduced by up to 90 percent compared to standard technology.
Tiama Saturn adapts to any container colour, without dimensional restrictions. It can be installed on all Tiama carousel machines, making it a versatile solution adapted to most production set-ups. The base offer starts with 6 cameras for finish & neck inspection and can be complemented with 3 body cameras and 2 base cameras for a full article inspection.
With the Saturn, Tiama now offers an easy set-up and high-performance alternative to standard checks detection options. It will become the standard choice for manual checks detection on Tiama carousel machines while the renowned Tiama Atlas offers a fully automatic solution.
For more information on Tiama Saturn, please contact a local sales representative or contact directly the company at marketing@tiama.com.