The Ministry of Finance yesterday imposed anti-dumping duties of up to 129.32 percent on float glass, in sheets, from Malaysia, Indonesia and Thailand, after an investigation found that they had sold their products at unfairly low prices on the Taiwanese market.
Xinyi Energy Smart (Malaysia) Sdn Bhd would be subject to an anti-dumping tariff of 20.89 percent, while other float glass makers from Malaysia would face a tariff of 129.32 percent, the finance ministry said in a statement.
PT Asahimas Flat Glass Tbk has been slapped with a tariff of 10.32 percent, while other Indonesian exporters face an 87.76 percent tariff, it said.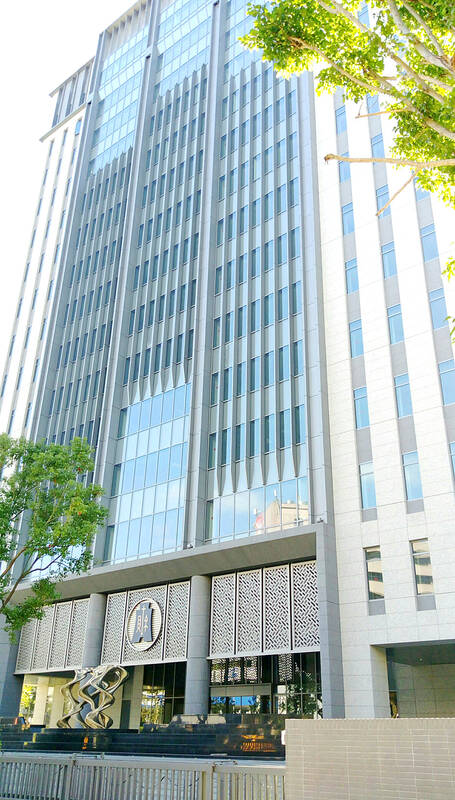 The Ministry of Finance building in Taipei is pictured on Aug. 25, 2018.
Photo: CNA
AGC Flat Glass (Thailand) PLC has been exempted from anti-dumping tariffs after an investigation, but other Thai suppliers face a tariff of 32.45 percent, the ministry said.
The tariffs would end on May 21, 2028, it said.
The ministry launched a probe into float glass exporters from the three Southeast Asian countries in May last year after an anti-dumping case brought by the Taiwan Glass Industry Association accused them of selling their products in Taiwan at unfairly low prices, affecting the local glass industry from 2017 to 2020.
The ministry issued a final determination in February ruling that float glass exporters from the three Southeast Asian countries engaged in unfair trade practices and contravened Taiwan's anti-dumping regulations.
The Ministry of Economic Affairs' (MOEA) International Trade Commission launched a separate investigation last year.
Last month, it ruled that the unfair trade practices caused material damage to the local glass industry.
After consulting with the MOEA, the finance ministry said that imposing anti-dumping tariffs on float glass suppliers from the three countries is unlikely to hurt Taiwan's economy.